By Guest Author Carol Watson of National Nannies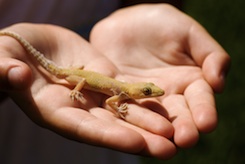 For apartment-dwelling kids or families who have limited space, traditional pets might not be a great fit. Reptiles, however, typically live in self-contained environments that require a relatively small space commitment. While not all reptiles are ideal choices for kids, there are many that could prove to be perfect for your family. Here are 10 of the most kid-friendly pet reptiles.
It's important to carefully research the habits and needs of a particular reptile before bringing it home, as there are many factors that make specific creatures less than ideal for kids. Some, for instance, can become so stressed from frequent handling that their health is affected. Also, children that are too young to understand proper hygiene should never handle a reptile without adult supervision, as some varieties can carry the salmonella virus, which can be easily spread if kids don't wash their hands thoroughly. Be sure to take your time before making your decision to ensure that both your child and their new pet are happy and healthy.
Thanks to Carol Watson of National Nannies for this very informative article!
Please visit my web site at Pet Portraits by Deena and see the many portraits I have painted (although no reptiles yet!)…10% of proceeds goes to support CorgiAid.
Here's an informative book to get you started: